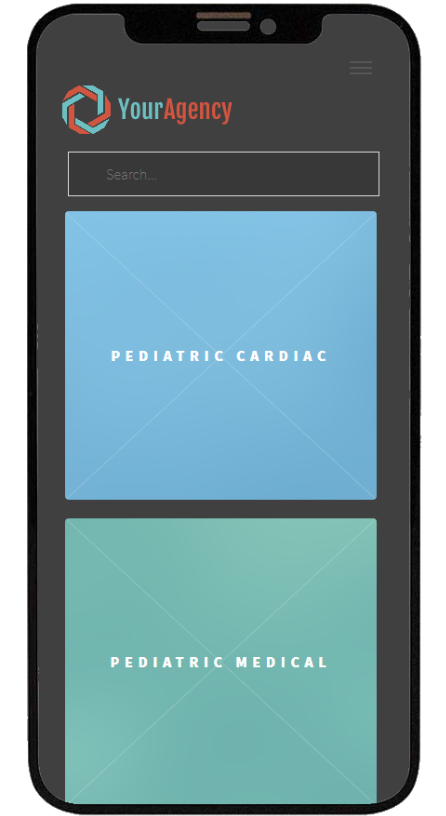 Ensuring simple access to
your EMS protocols
Our WebApp is a simple, cost effective solution to
bringing you protocols into the digital world.
Try Our Live Demo!
Powerful app
features
Increase productivity on scene with simple functionality
that lets your medics put patient care first.
Universal Compatibility
Our WebApp format works on any device
with a web browser. Say goodbye to clunky
apps updates and compatibility issues.
Ease of Use
Our layout divides your protocols categorically
to make finding what you need simple and fast,
we also have a search function with custom keywords.

Tap-to-Call
Never worry about searching through your contacts
for the hospitals ER direct number again, our Tap-to-Call
function automatically loads the number into your phone.
Designed & built
by EMS providers
for EMS providers
Our team of designers come from a Fire & EMS background, we built our solution because we knew a better solution to accessing protocols could exist.
Learn about our other services
Ultimate features
that we built
We're chaning the game up with our feature packed WebApp:
Rapid Deployment
From project start to deployment we can have you up and running in about a week!
UX Planning
Our designers work with you to ensure the User Experience meets your needs. Want to change things up, just let us know!
Cloud Storage
Your protocols are stored securely on our cloud, giving you peace of mind and ease of use!
Customer support
While we don't expect that you'll run into any issues, if you ever do we provide a 24/7 support line to get you back up and running.
Get our awesome features, without extra charges
Our pricing is simple and straightforward, and we never pass the cost along to your medics. What you see here is what you pay.
Basic Edition
Our entry level service includes:
Advanced Edition
Includes all Basic Edition features, plus:
Custom Agency Forms
Custom Agency Calendar
Real-Time Protocol Updates
Message Board
24/7 Live Support
Frequently asked questions
medicprotocol.online is built around the HTML5 framework and is compatible with any device that supports HTML5, which means it should work on any device with a modern web browser (Chrome, Safari, Firefox, etc). If you can access this webpage on the device you can access your protocols on the device!
We know that things change in the field of emergency medicine, and thus your protocols might change. If you select a package with semi-annual updates we'll reach out every 6 months to see if you've made any changes. If your package features Real-Time updates simply let us know that you've changed something and we'll get it uploaded into your WebApp; we'll still reach out every 6 month just to be sure.
We take care of hosting for you, you'll be able to find your protocols at the URL that we give to you (it will look like agency.medicprotocol.online), we'll also include customized instructions that you can send to your crews to get them up and running. Our server host features 99.9% uptime so you don't have to worry about not being able to access the information you need.
For the calendar we link into a calendar service that you control, typically this is a agency facing Google or Office365 calendar, whatever you choose to add to it will be accessible to your crews. Most agencies use this to announce trainings and due dates for certain things. For custom forms we set up a section where your crews can enter information and it gets emailed to whoever it needs to go to; think uniform orders, PTO requests, Questions/Comments, incident self-reporting, etc.
We process payment through PayPal, you'll receive an invoice in your inbox 30 days prior to your subscription ending. Simply enter your desired method of payment and you're all set. If you want to upgrade or downgrade your package this is a great time to do so as well. We offer a 2-week grace period from the time that payment is due prior to the termination of the contract.